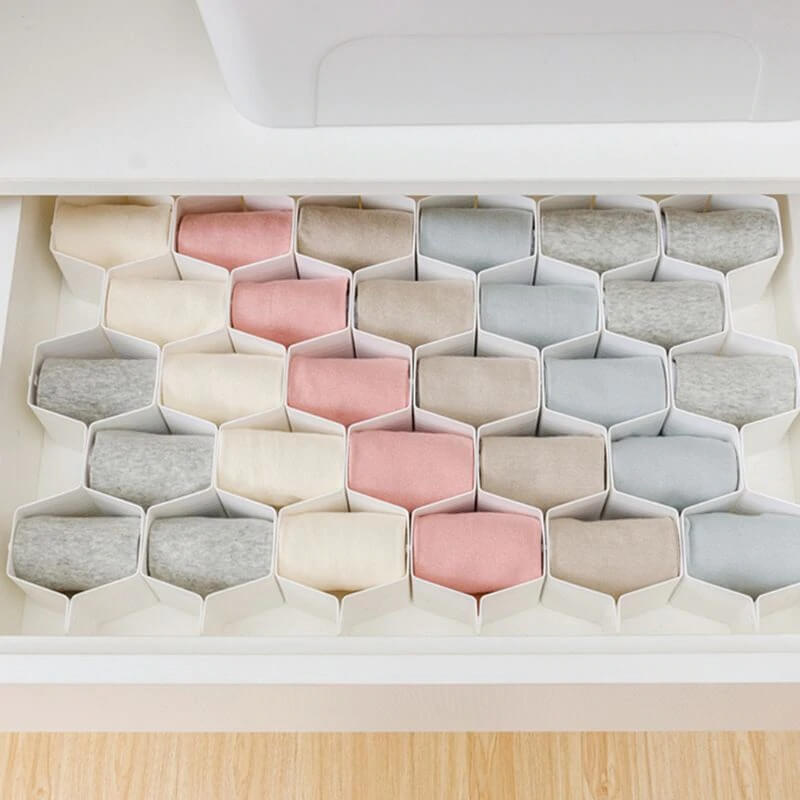 It makes me feel old to admit it, but I'm new to TikTok. I don't do TikTok dances or anything like that, but I've recently discovered that the social media platform is not only entertaining, but it's also a gold mine of organizing hacks.

I'm a sucker for genius organizing solutions, often motivated enough to click "Buy Now" on something like a lazy Susan after seeing a pretty photo of how one can totally transform a pantry. But when you see inspired organizing hacks come to life in 15-second videos set to music that gets stuck in your head, the effect is even more compelling.

Here, a dozen TikTok organizing hacks that had me ready to rearrange my entire house:
I would suggest this Honeycomb Drawer Organizer first cuz it's actually quite an eazy way to organize your drawer without much expense or efforts. Then let's go to other hacks:

1. Hang Your Remote on a Hook
This brilliant hack uses a ring phone holder to add a hook to the back of the remote. This way, the remote has a specific spot for storage and, with any luck, no one will have to dig through the couch cushions before movie night.

2. Store Cleaning Supplies on the Back of the Door
Getting frustrated before you even start cleaning is demoralizing, but that's what can happen when you have to dig and fumble for the product you're looking for. Rather than store cleaning products in the cavern of your under-sink cabinet, consider hanging them in the clear pockets of an over-the-door shoe organizer. You'll be able to see and grab what you need in less time, and you'll free up your cabinet for the things (and only the things) that are best stored in that awkward space.

3. Store Small Papers in Page Protectors
Even if you're not a savvy re-user of every bit of leftover construction paper or cardstock, the method is helpful for storing important receipts, photos that you don't want to lose, instructions or manuals, and coupons.

4. Use a Pot Rack to Make a Charging Station
If you have a bookshelf, an outlet, and a mess of charging cables you wish you could hide, this hack is for you. Drill holes in the corners of your shelves, and run your cables up to the slots of a pot rack. Your devices will sit neatly while they get juiced up—and you won't have to resign yourself to the tangle of cords that's usually spilling all over your countertop.

5. Use a Divided Turntable for Feminine Products
There's no way around it: Torn-open boxes are neither the most aesthetic storage option, nor the easiest to retrieve things from. Fill a turntable snack station with unboxed feminine products to keep them tidy and within easy reach.

6. Organize Your Home Away From Home With Photo Boxes
If you need painkillers, first aid supplies, hair tools, and the entire kitchen sink to feel secure when you're on the road, you've probably struggled with how to pack it all. A photo storage box that comes with separate boxes tucked inside allows you to sort your on-the-go necessities by category, so you can find that hair tie or bandage without shuffling through everything else.

7. Create Your Own Hanging Pot Storage
If your pots and pans are crammed into cabinets, this solution could be the answer you've been looking for—and no you don't need to hang pot storage from the ceiling. Simple curtain rods and S-hooks are all you need to store your cookware right within reach. The best part is that the top of the rod can be used to hold lids.

8. Store Games in Bags
Game boxes, as fun as they are to look at, take up an inordinate amount of space, especially when you consider that much of what's in them is air or packaging. Rather than carve out space for empty cardboard, decant your games into zippered vinyl bags and store these in a bin or basket.

9. Think Outside the Box With Your Towels
If your linen closet is full of folded towels in teetering piles, try rolling them instead. Not only will they take on a spa-like look, but you and everyone else will be able to pull out the roll without toppling a carefully stacked tower.

10. Attach Clear Bins to the Inside of Cabinet Doors
You certainly don't want to drill holes into your cabinet doors and not everything fits in over-the-door bins. Enter clear bins with removable adhesive that affix to the door. Use them to store the awkwardly-shaped, hard-to-store boxes of cling wrap, aluminum foil, parchment paper, and more. Like with any good organizing solution, your items will be easy to access, and you'll free up valuable room in typical storage space.

11. Use Magazine Holders as Storage "Bins"
Magazine holders are useful for storing far more than just paper items. By taking advantage of their vertical nature, you eliminate the unstacking and shuffling you often have to do when storing items flat. Placing the holders with the tall side out (don't forget to label!) offers a unified look, even if your storage space is out in the open and the objects you're storing are unsightly.